Today we welcome the talented and multi-published author Tanith Davenport to the blog. Tanith writes in the erotic romance genre and has several books published by Totally Bound Publishing.
What genre do you write in? Any specific reason why you chose the genre?
I write erotic romance. It was a genre I fell into - my debut novel dealt with the nature of sexuality and so involved multiple erotic scenes, and I discovered through this that I apparently write sex very well!
Where do you get the ideas for your books? How do you go from idea to outline?
I draw ideas from all sorts of places - I'm always having to email or text myself because an idea has come to me at an inconvenient time. These get written down and left until I'm ready to pick them up, which will probably be when I have several small ideas that will work well together so that I can form an outline from them.
Are you a plotter or a pantser? Why?
I'm mostly a plotter, although I'm always open to new ideas as I write.
If you are a plotter, how thoroughly do you outline the plot?
I like to know where I'm going, but I don't outline too tightly - I find the story will often develop as it goes so there always needs to be room for manoeuvre. The characters have a tendency to tell their own stories, I find, and often things which were briefly mentioned early on will turn out to have vital importance later.
If you have to choose only one element (setting/ character development/ structure/ conflict/ etc.) that is absolutely essential to every novel you've written, what would it be? Why?
I'm probably in the minority on this, but for me it would be setting. I like to set my novels in distinctive places every time, so they're memorable for the reader and more fun for me to write.
How much time do you spend on getting to know your characters before you start the first draft? Why?
I don't go into too much detail straight away - what is important to me is a strong sense of who a character is as a person, and that can often be sketched quite broadly. The little details often come out of the story. That said, when I wrote about fraternal twin sisters, I did spend more time on them so that I could establish their similarities and differences.
What is the single most important thing a writer must do before he/she starts writing the first draft? Why?
For me, it's having a plot - even if it's only general, or if it changes (as mine frequently do). If I don't have some idea of where I'm going, I'll wander around all over the landscape.
Do you only self-edit or hire a professional editor? Why?
I self-edit. In part this is because I know there will be more editing to come after acceptance, but also because I used to be an editor on a regional magazine myself so I have a certain degree of confidence in my editing skills. I leave the draft alone for a few days so I can view it objectively.
How many drafts do you write before submitting to publishers?
Generally two, although longer pieces have been known to have three drafts. I do a lot of fiddling as I write, so it's usually enough to write a first draft and then go over it one more time.
Do you submit to multiple publishers at the same time or stick to one?
Unless I'm submitting for a particular submissions call, everything I write goes to Totally Bound first. They were the first to accept me and so far have proven to be a great publisher, so they definitely have my loyalty.
If you have to give one sentence advice to a novice writer, what would it be?
Could you please give us a list of your published books and a short blurb about each one? Please state the publisher and year published as well.
The Hand He Dealt - Totally Bound June 2011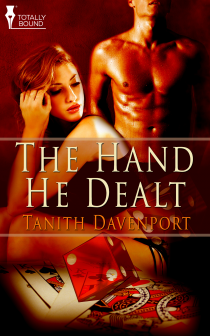 Astra Scott likes to live life to the full. A sorority girl and Gaming Management student, she spends her days studying and practising guitar, and her nights partying or working at the Fountain Casino, where she has an internship as part of her final semester. The only blot on her landscape is Ash Drake, her best friend Sasha's boyfriend. Arrogant, physical and blond, Ash has never forgiven Astra for her rejection months earlier and enjoys annoying her at every turn.
But when Astra's boyfriend Harry reveals a shocking secret, Astra responds in the only way she can think of: by finding a way to take on a more attractive, masculine role in the relationship. Her experimentation with sex toys finds a surprising outlet in Sasha, but when Ash discovers their secret and wants to get involved, Astra finds herself torn between dislike and desire…and as their undercover relationship grows, Astra finds herself falling in love, a path she feels can only end in heartbreak. For Ash may be the only man whose own fantasies are a match for hers, but can she knowingly steal his affections from her best friend?
I Heard Your Voice - Totally Bound December 2012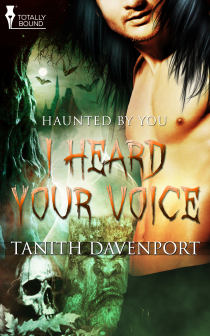 Tamar Steele's life was never supposed to be like this. A sensitive working with a team of paranormal investigators, she is trapped in a loveless relationship with the team's medium, Reed James, who believes that having sex on haunted ground enhances paranormal activity. Tamar maintains their partnership for the sake of the crew, forcing herself to ignore the burgeoning sexual tension between her and fellow investigator Jason Bray.

Until one night when, alone and bored, Tamar sings to herself and is knocked to the ground by an invisible force. Somehow she is able to invoke spirits with the power of her voice. And one particular sexy, matchmaking spirit is determined to turn her life upside down.
Sleepwalker - Totally Bound November 2013
Tally Haslam has too much to deal with. A herbalist and aromatherapist, her latest creation - an aphrodisiac potion - remains in unsaleable condition as she has nobody to test it with. And, much to her annoyance, she sleepwalks.

Hoping to get away from it all for a weekend, Tally travels to nearby Madigan Hall for their yearly Paranormal Evening—but on the first night she wakes up outside the bedroom of another guest: Kyle Hunter, who has chosen to pleasure himself with the door open. Tally escapes without being seen, but is unable to get Kyle out of her head—especially when she finds herself at the same table at him the following evening.

However, Tally's world is turned upside down when, at the paranormal dinner, she encounters the ghost of the Blue Lady, who seems determined not to leave her alone—and shows a disturbing penchant, when Tally sleepwalks again, for leading her astray…
Ready for Him - Totally Bound September 2013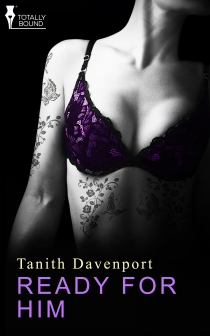 In the bar at the Bellagio in Las Vegas, Jade Bleecker celebrates with her three best friends, all of whom are there to get married. Jade is their bridesmaid, and beginning to believe that three times a bridesmaid really does mean never a bride. Tattooed, pierced and a martial artist, Jade is used to inspiring fear rather than desire in men, and even if she did find one who could handle her—well, no man is worth trusting with her body.

But as she is leaving the bar, she comes upon a mugging in progress and, with a few swift moves, makes short work of the mugger. Invited up to the victim's room for a nightcap, she is stunned to discover he is Will Vandenmeer—billionaire poster child of the Vandenmeer hotel and casino chain, and owner of The Sanctuary, one of the best-known BDSM clubs in New York City.

Jade finds herself hopelessly attracted to the sensual, dominant Will, and when he offers to induct her into the world of BDSM, she accepts…but can she truly give herself to him, and is Will ready for what Jade has to offer?
The Tenant of Wildfell Hall - Totally Bound September 2013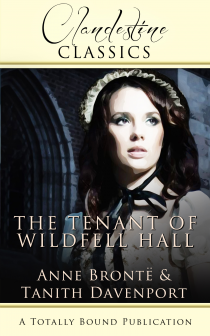 Into the quiet village of Lindenhope comes Helen Graham, an attractive young widow and mother. Living alone with her son at Wildfell Hall, her seclusion attracts curiosity from the local people, in particular Gilbert Markham, whose interest in her is soon edged with desire-and Helen, despite herself, begins to reciprocate his love for her.
But when scandalous rumours begin to circulate about Helen's behaviour, Gilbert is filled with anger and jealousy. Helen attempts to clear her name by offering Gilbert her diary, which reveals the dark, passionate story of her former marriage to debauched rake Arthur Huntingdon, whose sexual and sensual desires fill her with excitement and pleasure but precipitate a gradual descent into hell.
Gilbert believes he could forgive her anything, but the lies continue to spread, threatening Helen's peace of mind and, above all, her physical safety. Will the secrets of Helen's past get in the way of their future?
Photograph - Totally Bound May 2014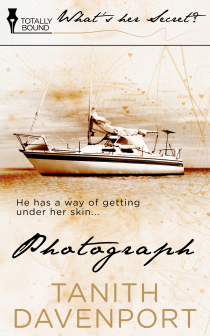 Tara Thornton hasn't spoken to her sister in two years, ever since Azure married the man of Tara's dreams. Tired of the rift, Azure invites her to take a Mediterranean cruise on a friend's yacht and, bowing to family pressure, Tara accepts.
Forced to be in close proximity with the man she still desires, Tara is thrown into confusion. The presence of celebrity theme park owner Liam Wilder and the reality of his marriage to Azure send Tara into a tailspin and, in an attempt to regain control, she responds to the advances of hot fellow guest Ryan Hyde, while determined to feel no affection for him.
But Ryan has a way of getting under her skin, and Tara's plan to get closer to Liam is rapidly losing its importance as Ryan begins to break down her defences. Can she let go of Liam, let Ryan into her heart...and tell Azure the real reason for her silence?
Tamar Rising - Totally Bound December 2014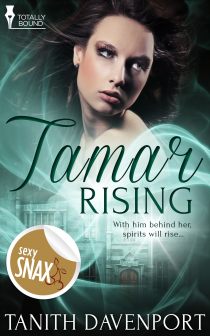 Tamar Steele's star is on the rise. Her relationship with boyfriend Jason Bray is blossoming, as is her bond with her spirit guide, the ghost of Jason's brother Matt, who has been training her in mediumship. And, newly installed as the medium for her crew of paranormal investigators, she is already receiving press attention, which brings her to the notice of Scare Seekers – a paranormal entertainment show keen to film an episode with Tamar's team.
But when teammate Hana is violently possessed, filming is thrown into disarray. The dark spirit seems to disappear at first, but when a frenzied Hana attacks Tamar on the drive home, Tamar realises that her mediumistic abilities may not be strong enough to fight the demon.
Until one day Tamar discovers her powers are increased by having sex on haunted ground, and finds that maybe she and Jason can save Hana, their team's reputation, and themselves…
About Tanith Davenport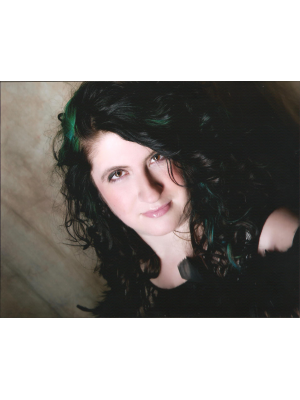 Tanith Davenport began writing erotica at the age of 27 by way of the Romantic Novelists' Association New Writers' Scheme. Her debut novel "The Hand He Dealt" was released by Total-e-Bound in June 2011 and was shortlisted for the Joan Hessayon Award for 2012.
Tanith has had short stories published by Naughty Nights Press and House of Erotica. She loves to travel and dreams of one day taking a driving tour of the United States, preferably in a classic 1950s pink Cadillac Eldorado. Her latest novella "Tamar Rising" is out on pre-order from Totally Bound on 23rd November 2014.
Tanith's idea of heaven is an Indian head massage with a Mojito at her side.
Where can you find Tanith Davenport
Thank you for being with us today, Tanith. I look forward to getting my hands on a copy of Tamar Rising soon.