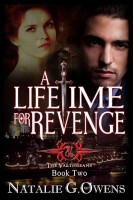 Keeping it simple doesn't always work out so well…
After exacting his longed-for revenge, Massimiliano "Max" Damiani's life is about to get more complicated when he is sent by the Valthrean Council to investigate the mysterious death of one of their Councilmen. Duty-bound to protect the victim's daughter and her young brother, the stakes are upped as Max and those around him become targets of a dangerous enemy. The Cult is closing in, threatening the future of their kind.
Fate is a cruel mistress…
Piper Ingram's existence is thrust into turbulent waters. Her father has been murdered in cold blood and she is now sole guardian to her little brother, Charlie. After years of helping others come to terms with their problems and move on to better lives in a domestic violence shelter, she now needs help protecting herself and her kin.
Salvation comes when we face our deepest fears…
Max values his independence above anything. Meanwhile, this case brings him more trouble than he's bargained for, pushing his limits, and testing his fear of commitment. While striving to keep his personal demons at bay and holding on to his set ways, he fights his attraction to Piper, but he fast learns some things are not within his control. Will he save those entrusted in his care this time? And most importantly, will he finally find redemption ... and love?
REVIEW:
4 OUT OF 5 STARS
Max Damiani is a strong man with a checkered past and proud of it. He avenged his sister's death the only way he knew how and although he is not proud of the methods he had to employ, he suffers no remorse for executing the deed. Used to being the problem solver everyone calls upon, he suddenly finds himself in the precarious position of having to protect a woman and her young brother. This is his worst nightmare come true as the boy reminds him too much of his sister and the woman pushes all the wrong—or is it the right?— buttons.
Piper Ingram is used to protect other people at the shelter she runs. Now she has to submit to being protected by a man who made it clear that he would rather be anywhere else, doing anything else, rather than being charged with the responsibility to protect her and her brother. To top it off the only safe place seems to be Max's house.
So the stage is set for a tale of modern romance laced with enough suspense to keep your eyes glued to the pages. Several undercurrents of evil run simultaneously only to converge under the expert hands of the author. Unlike the first book in the series (An Eternity of Roses) this book takes place in the present time only.
This story illustrates how love can overcome sadness and hatred and how it can provide courage when you thought you had none. Once again this is not a quick read and readers should expect to spend some time enjoying the characters Ms. Owens so expertly created.
It is a book filled with razor-sharp imagery and on-the-button descriptions of inner conflict. Most of all it is a book that will leave the reader with sense of satisfaction when the last sentence is read.
Definitely a book I would recommend for readers of paranormal romantic suspense.
You can buy the book here:
or at any online retailer.